Blackstone Mountain Lodge​
The perfect base for your Rocky Mountain Adventure
Located 20 minutes from Banff National Park in Canmore, Alberta, Blackstone Mountain Lodge offers luxurious hotel rooms, one, two, three and four-bedroom condos. Take advantage of our daily housekeeping services and 24-hour guest services.
Our vacation rentals include a year-round heated outdoor pool and two hot tubs, a modern fitness centre, heated underground parking, meeting and event space and Wi-Fi throughout the resort. Our outdoor courtyard features a BBQ area with stunning views of the surrounding Canadian Rockies.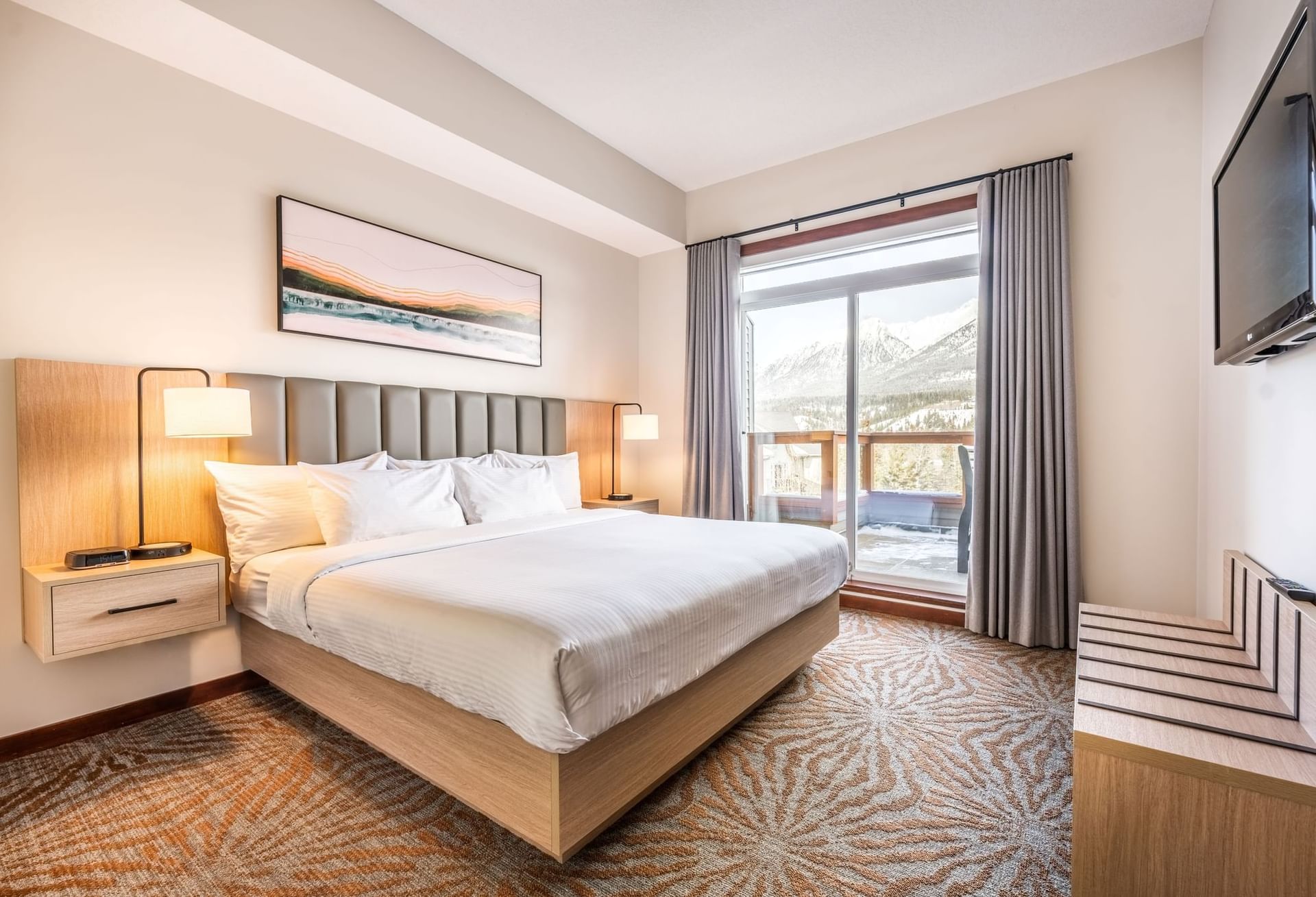 Luxurious Hotel Rooms and Spacious Suites
Canmore's premiere condo-style hotel offers spacious 1, 2, 3 or 4-bedroom suites with expansive balconies, fully equipped kitchens and living areas with fireplaces. Blackstone Mountain Lodge also offers hotel style rooms with 2 Queen Beds and is proud to provide daily housekeeping service.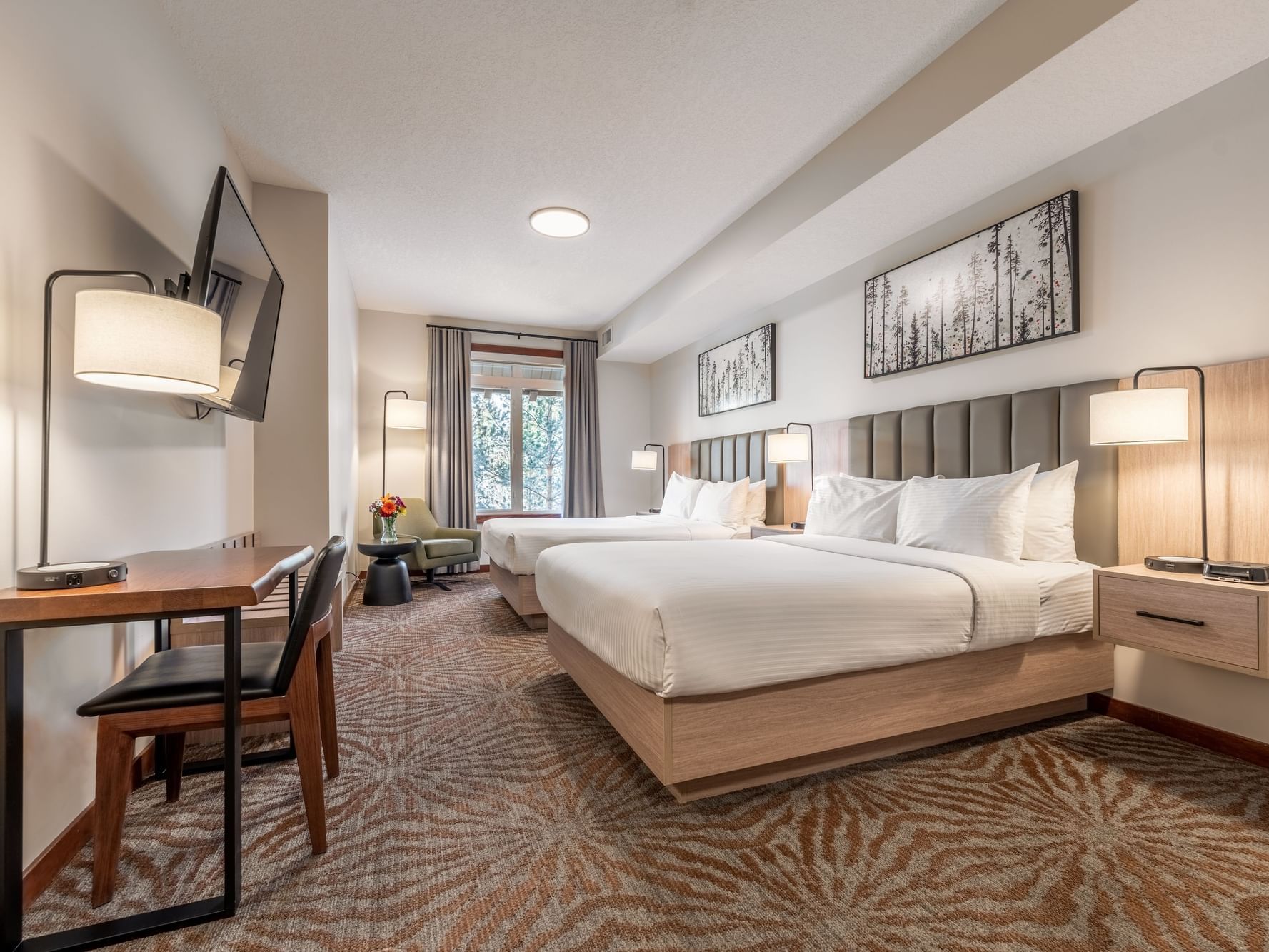 With contemporary furnishings, this charming 350 sqft room will provide comfort in intimate luxury.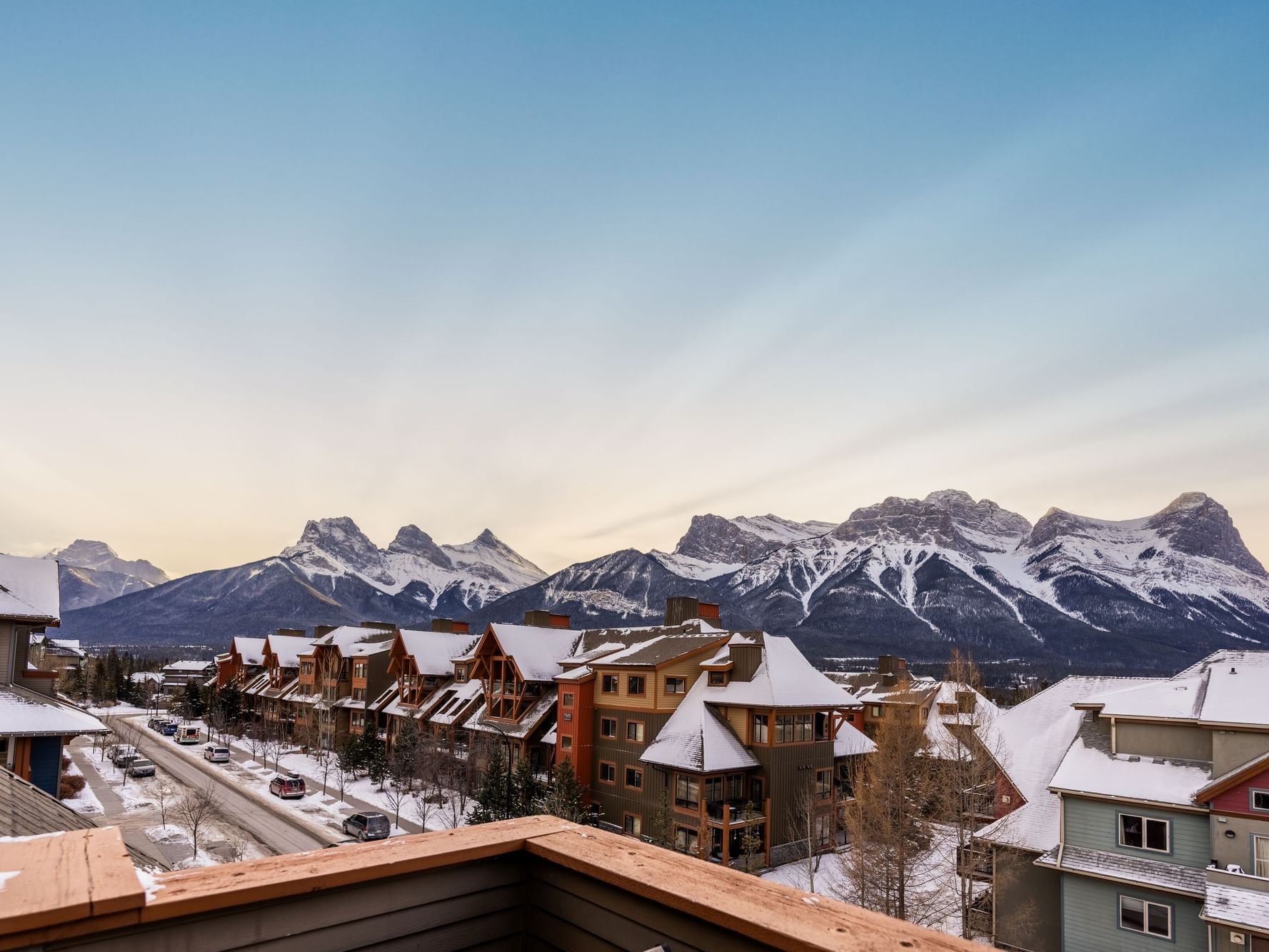 This spacious 830 sqft condo-style unit offers the same layout as our One Bedroom Deluxe Suite with a guaranteed view of the mountains.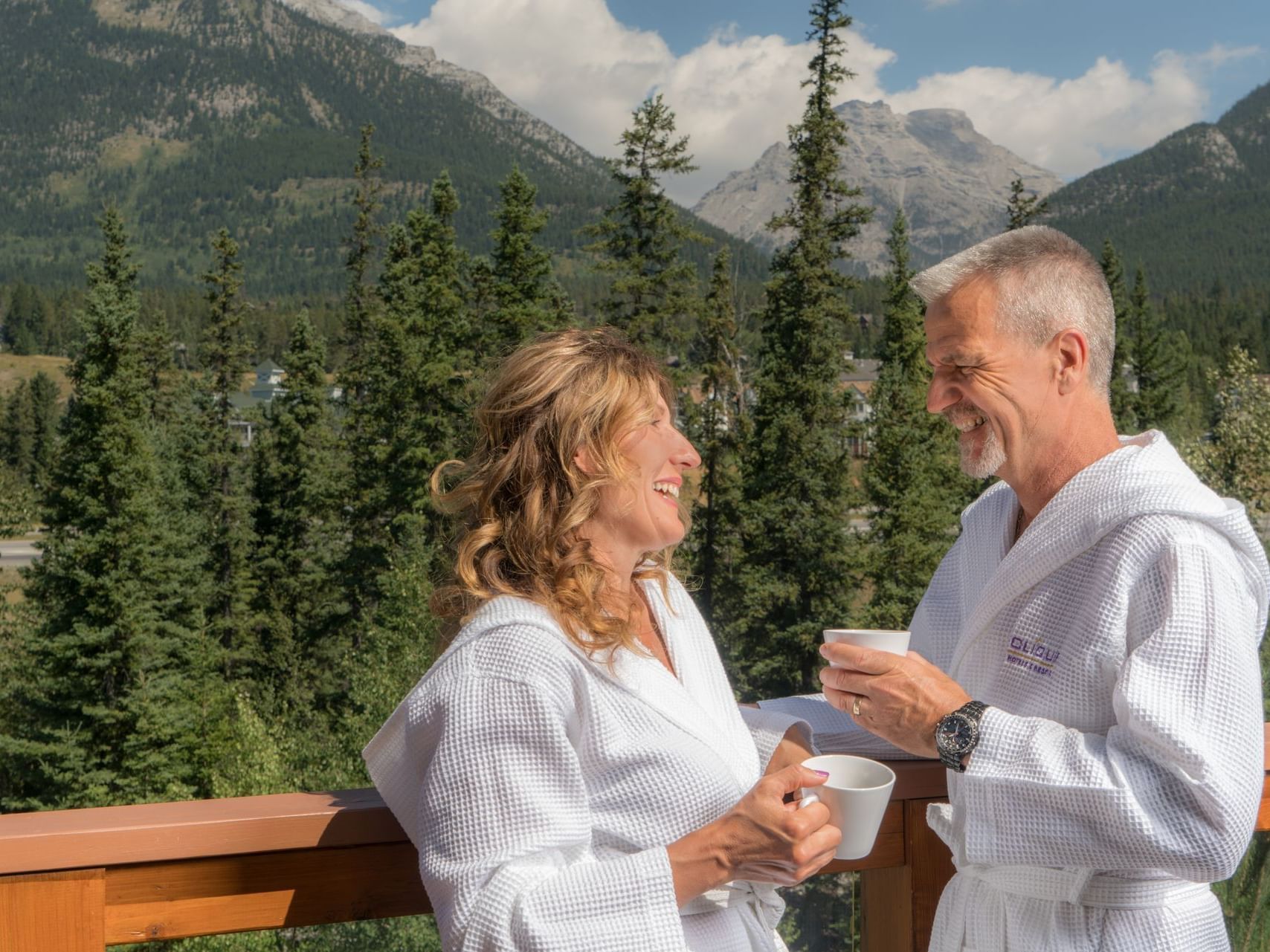 These 900 sqft 2-bedroom, 2-bathroom suites are ideal for a family getaway in the Rockies.
Relaxing Getaway in the Mountains
"Oh, where to begin with this captivating haven nestled in the heart of Canmore? From the moment we stepped through the doors, we were welcomed with the warm embrace of Canadian hospitality. Let's talk about the bed – because, let's face it, after a day exploring the Rockies, there's nothing more we crave than a restful night's sleep. It was the epitome of comfort! I would wager it was akin to sleeping on a cloud, if I'd ever had the pleasure of trying. Now, for those who, like me, consider the kitchen an extension of one's soul, this hotel was a dream come true. Everything - and I do mean EVERYTHING - we could possibly need was at our fingertips. From sleek utensils to the most modern coffee maker, our inner chefs and caffeine lovers were elated. But it wasn't just about the room. The amenities! Oh, the amenities. They were nothing short of amazing. It's evident that the hotel takes pride in ensuring guests have a multifaceted experience. Whether you're looking to rejuvenate in the hot tub, take a dip in the pool, or enjoy drinks and grill bbq, there's something for everyone. In summary, this Canmore gem offers more than just a place to rest; it offers an experience - one that encapsulates the perfect blend of luxury, comfort, and that quintessential mountain-town charm.Don't miss out on this delightful abode. Happy travels!"

2023-08-08
Our stay at the Blackstone Lodge was divine. The room was clean and comfortable and the outside hot tub and pool were a welcome relief after long hikes in the cool weather. I want to give a shout-out to Krissi who was particularly helpful during our stay. Will definitely be returning in the future.

2023-08-13
"Everything about Blackstone Lodge is just perfect. From housekeeping to beds to hot tub to customer service they exceed expectations in every area. The staff at Blackstone just takes hospitality to next level and special mention for Alyssa at front desk, she is the most friendly and helpful person ever. You all made our first vacation to Banff really special. A big heartfelt thank you from me and my family."

2023-08-11
"Memorable family moments!"

"Very nice experience and perfectly located in Canmore. Hotel is super clean and offers a very nice pool and hot tubs. A special thanks to Thalia. She's very knowledgeable of the area and her professionalism made our 3 day stay a memorable family experience!"

2023-08-05
"Highly recommend Blackstone Mountain Lodge!"

"This lodge is fantastic. It's clean and has great rooms with plenty of space and a great coffee maker with coffee and cream provided. But what really stands out is the front desk. Ruby specifically was incredible in her help finding shuttles to Lake Louise and Lake Moraine and signed us up for an evening safari to see local wildlife. And she was so friendly and hospitable. We highly recommend this Lodge! The distance from Canmore to Banff is only 20 minutes and this town is beautiful with local charm."

2023-08-03
"Everything you would need at Blackstone"

"The Blackstone was an amazing resort! Easily walkable to downtown Canmore, we were never too far from great food/coffee/breweries. The parking garage was very convenient and even came with an area to store our mountain bikes securely. Staff was super friendly and helpful, especially Alyssa. When utilizing the grills on the patio, she happily provided us with grilling utensils and cutlery from the front desk. Would highly recommend staying here and hope to come back again someday."

2023-08-05
''Incredibly helpful crew that saved our trip.""

"Alyssa Stingley was our GPS and has the perfect personality for her position. Tahlia Orth helped us like we were family. Monica Derzaph got involved and helped us with the business center internet. Mario (supervisor of housekeeping) did not have to help, but he did. And, Zach Bryce was great on the phone. This crew helps people like no other place we've been. I recommend them and the hotel highly.''

2023-07-30
"The service was amazing. The hotel is beautiful. We had plenty of space in our very comfortable room. The balcony and windows had great views.

Not much else to say…

Naming our second born after Ruby!!''

2023-07-24
GIFT CARDS NOW AVAILABLE
GIVE THE GIFT OF WOW.
Gift Cards are available in any denomination for use at any Clique Hotel/Resort and Restaurant in Calgary, Canmore and Whistler. To Purchase your CLIQUE Gift Card call 403.675.5000 or visit the link below.