Blackstone Mountain Lodge​
The perfect base for your Rocky Mountain Adventure
Located 20 minutes from Banff National Park in Canmore, Alberta, Blackstone Mountain Lodge offers luxurious hotel rooms, one, two, three and four-bedroom condos. Take advantage of our daily housekeeping services and 24-hour guest services.
Our vacation rentals include a year-round heated outdoor pool and two hot tubs, a modern fitness centre, heated underground parking, meeting and event space and Wi-Fi throughout the resort. Our outdoor courtyard features a BBQ area with stunning views of the surrounding Canadian Rockies.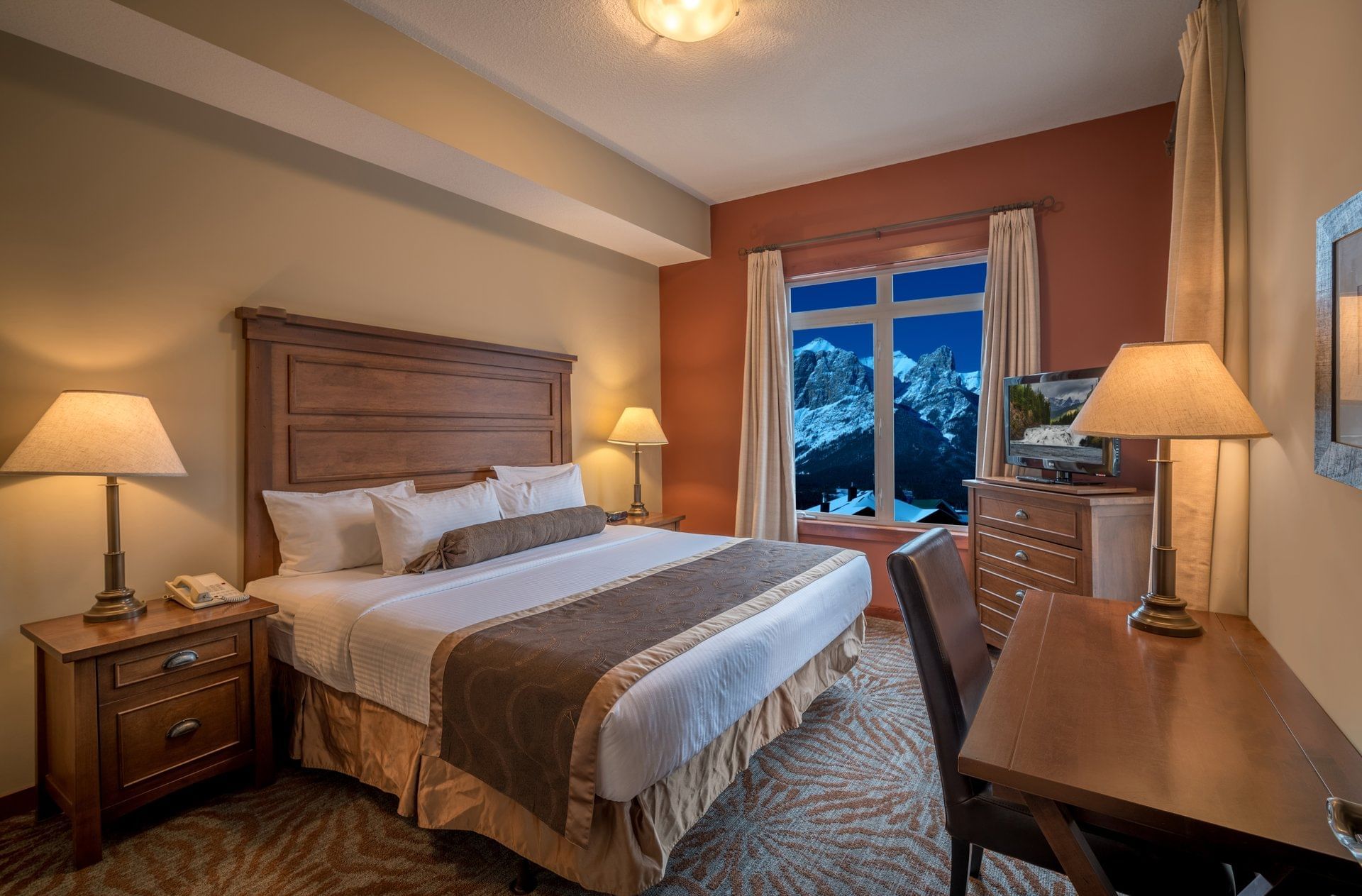 Luxurious Hotel Rooms and Spacious Suites
Canmore's premiere condo-style hotel offers spacious 1, 2, 3 or 4-bedroom suites with expansive balconies, fully equipped kitchens and living areas with fireplaces. Blackstone Mountain Lodge also offers hotel style rooms with 2 Queen Beds and is proud to provide daily housekeeping service.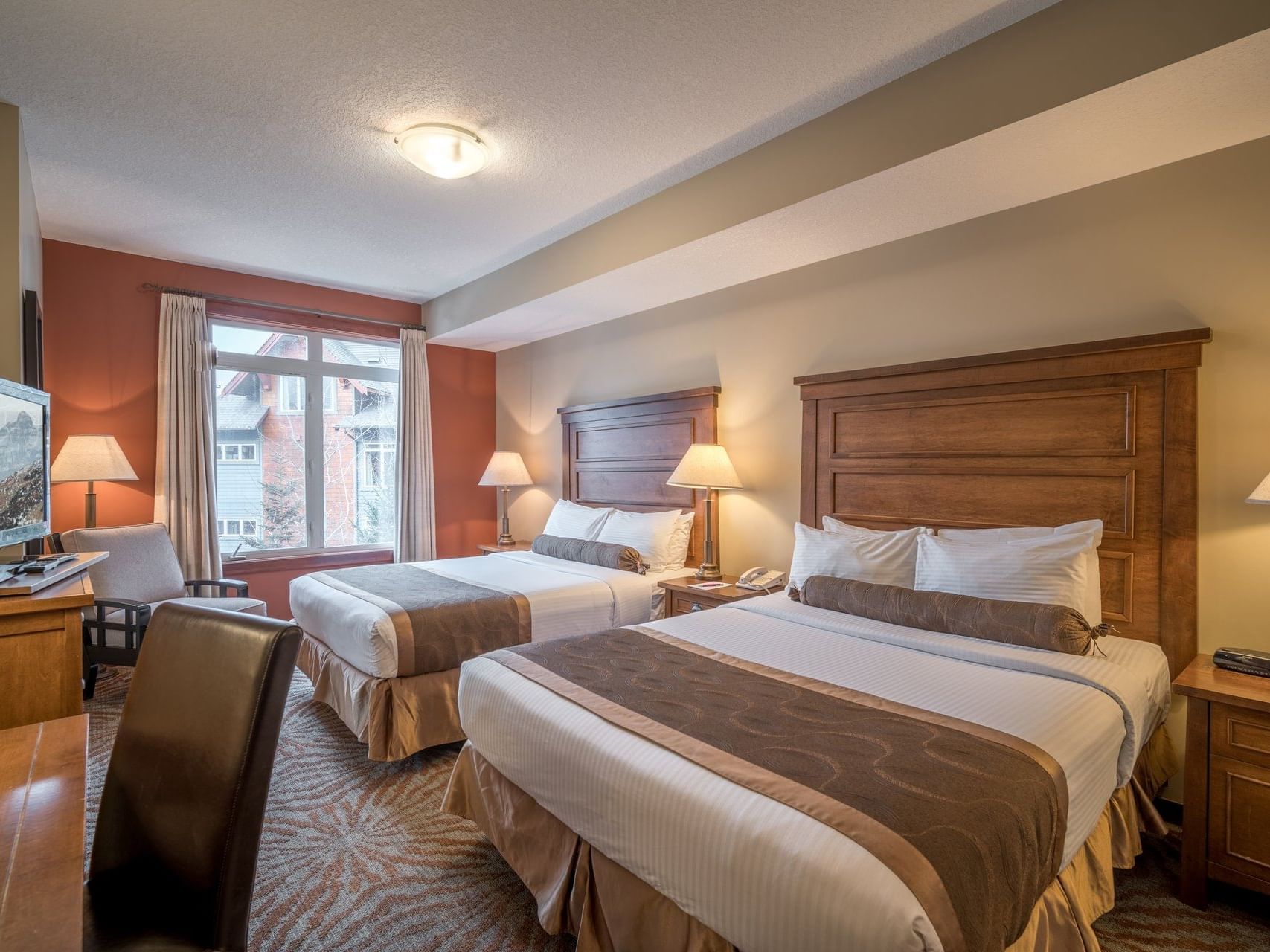 With contemporary furnishings, this charming 350 sqft room will provide comfort in intimate luxury.
See room details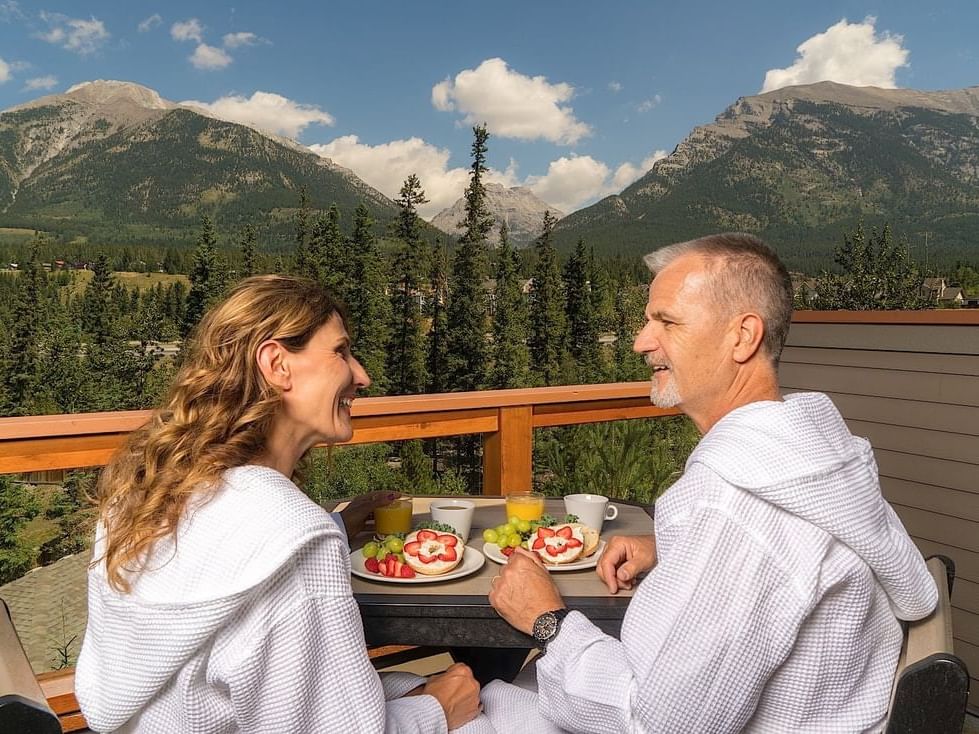 This spacious 830 sqft condo-style unit offers the same layout as our One Bedroom Deluxe Suite with a guaranteed view of the mountains.
See room details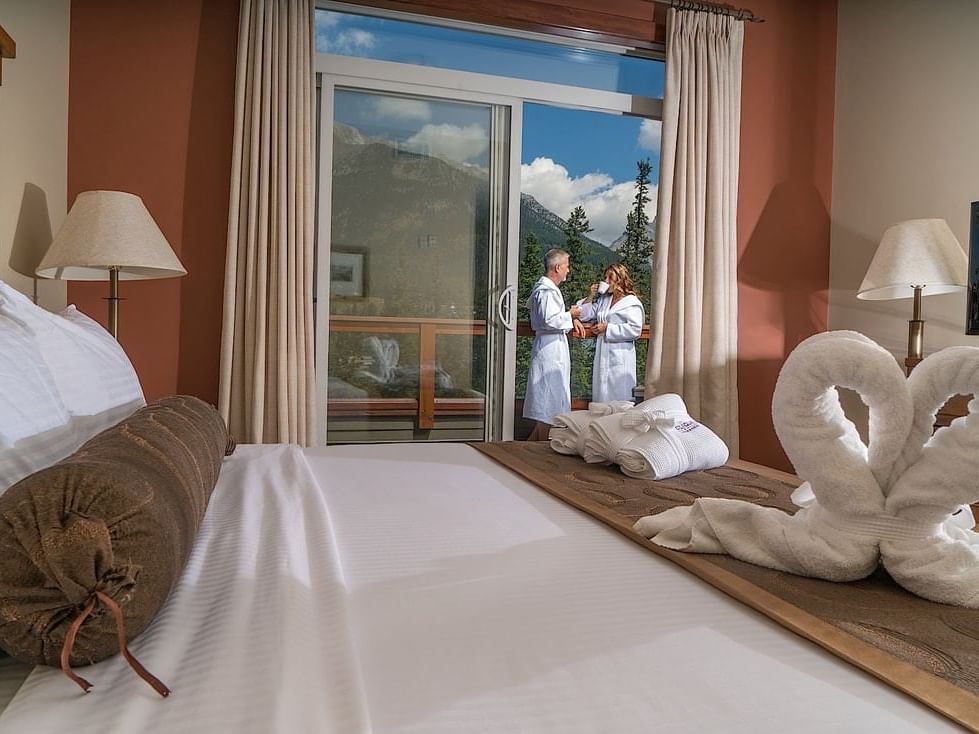 These 900 sqft 2-bedroom, 2-bathroom suites are ideal for a family getaway in the Rockies.
See room details
Relaxing Getaway in the Mountains
"We took our family of 6 here for Easter to get out of our city and relax in the fresh mountain air. We were looking for a spacious hotel to accommodate our large family and Blackstone delivered! We were very lucky to be upgraded into the amazing penthouse suite.

This suite was large, clean, comfortable and make us feel very at home. Our kids loved having their own rooms and sitting by the fire in the evening outside and staring at the amazing view of the mountains. We stayed for 3 nights but could have stayed a week. We didn't feel crowded in a little room, but instead like we were at a cabin for the weekend. The large kitchen that provided us everything we needed, allowed us to make some delicious meals and cozy living room to relax afterwards and play games together. Walking distance to downtown for a little shopping and close to quite a few restaurants as well.

I would highly recommend Blackstone for a family getaway, and although there are covid restrictions all around us, we felt very safe and not too limited. The staff was great and the pool schedule worked well too. Looking forward to coming back again very soon."


2021-04-12
"Fantastic place. When we arrived, they asked in a hospitality sort of way the reason for our stay. I informed them it was for my wife's birthday. The supervisor and front desk staff said. Let's make this special, stall your wife. I did and upon arriving in the room they had out a bottle of wine, and a nice birthday greeting note. The room itself was very spacious, clean, great furnishings, well supplied kitchen, and great deep tub. The place was full as noticed by the parkade, but the building was quiet. We were able to book a time in the hot tub, Covid friendly rules applied, and it too was delightful. Clique knows how to run a place, we will be back."

2021-05-03
"This place is a great affordable option for families with super comfortable rooms and well-equipped kitchens. The room had everything we need, and the staff was very accommodating in keeping the pool and facilities open and safe. We went midweek and had no problem getting pool/hot tub spot (recommend going between 11-4 after checkout and before the next wave of check in). Definitely gets a bit busier and back-to-back pool bookings on the weekend. Our room faced the pool/highway but still had nice mountain views from 3rd floor."

2021-04-18
"Amazing rooms! AMAZING staff! Will definitely stay here again!"

2021-04-07
"GREAT PLACE TO STAY IN CANMORE"

"This is an affordable, classy, clean, comfortable hotel close to Canmore town centre and walking trails. There is an outdoor hot tub and swimming pool which are available year round. My family and I had a great visit over the Easter weekend!"

2021-04-06
"THANKS FOR A GREAT STAY"

"Enjoyed the rooms and the amenities. The layout was what we are looking for our retirement downsize. Canmore is a great place for its beauty and community feel. Thanks for a great stay"

2021-04-01
"WE WILL PROBABLY ALWAYS STAY HERE"

"My husband and I have stayed here the past two years during our visits and have loved this hotel. The rooms are quiet and comfortable, the kitchen / kitchenettes are stocked well, they have underground heated parking included in cost, and the hot tubs are always perfect temperature. If you go during the off season, you can't beat the cost for what you get, it's always a steal of a deal. The front staff are always friendly and accommodating. We were recommended this hotel by friends, and we will continue to recommend to friends and family"

2020-11-01
"ABSOLUTELY LOVE THIS HOTEL"

"Absolutely love this hotel. Great location surrounded by majestic mountains. The staff are super friendly and very helpful and made us feel welcome right away. The rooms were clean, comfortable and well appointed. Kids love playing in the swimming pool. We stayed for 3 nights and wanted to stay more. We highly recommend this place and will come back."

2020-10-01
GIFT CARDS NOW AVAILABLE
GIVE THE GIFT OF WOW.
Gift Cards are available in any denomination for use at any Clique Hotel/Resort and Restaurant in Calgary, Canmore and Whistler. To Purchase your CLIQUE Gift Card call 403.675.5000 or visit the link below.